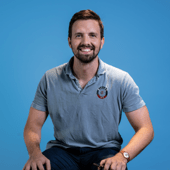 Basile Jodeau
Knowledge Manager – Customer Success
Helping others is my fuel. I am curious, and always strive to deeply understand our products and services from top to bottom.
Being the onboarding and knowledge manager at Amenitiz allows me day by day to make our team and our clients successful by building good practice, processes and product knowledge. 
Having worked in the hospitality industry over 10 years, I developed a thorough understanding of the industry needs and expectations.
I have grown from at Amenitiz, from an SDR position to where I stand today, I have been successful in building a team, processes, enhancing and developing my managerial skills.
Foodie and restaurant enthusiast is what I do, I am literally a walking restaurant guide ! I love discovering new cuisines, and spending hours in my kitchen cooking for the people I care for.